We are proud to have been involved in a number of projects we refer to as 'Grand Designs', eye catching features that are just not forgotten, defined by their size, presence, profile and the technical ability involved.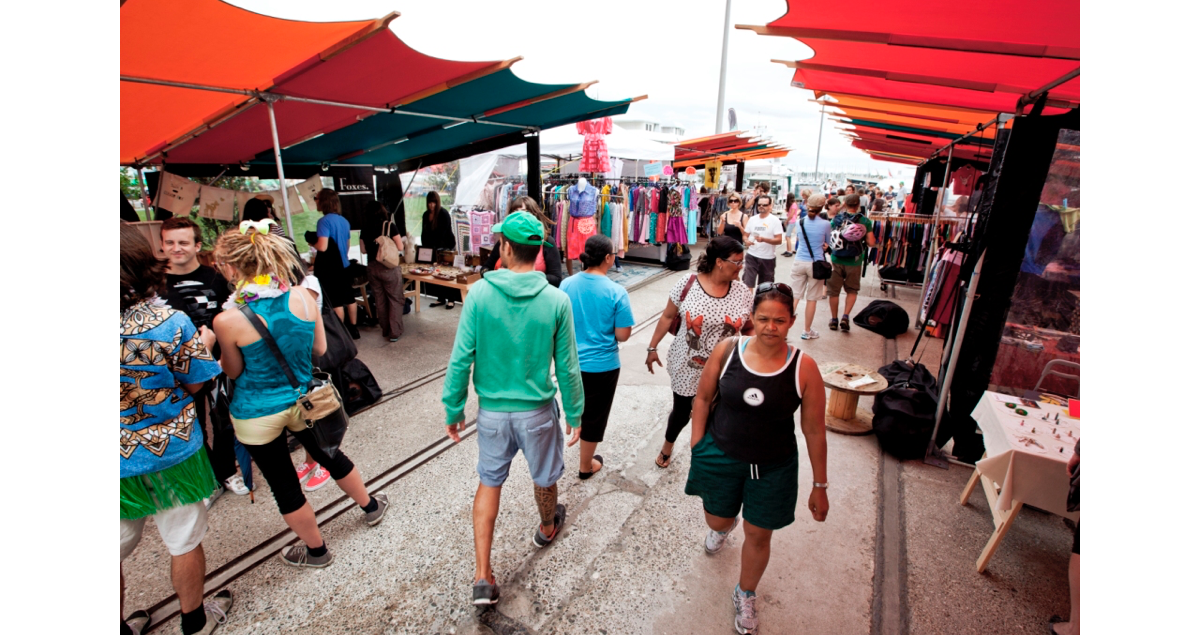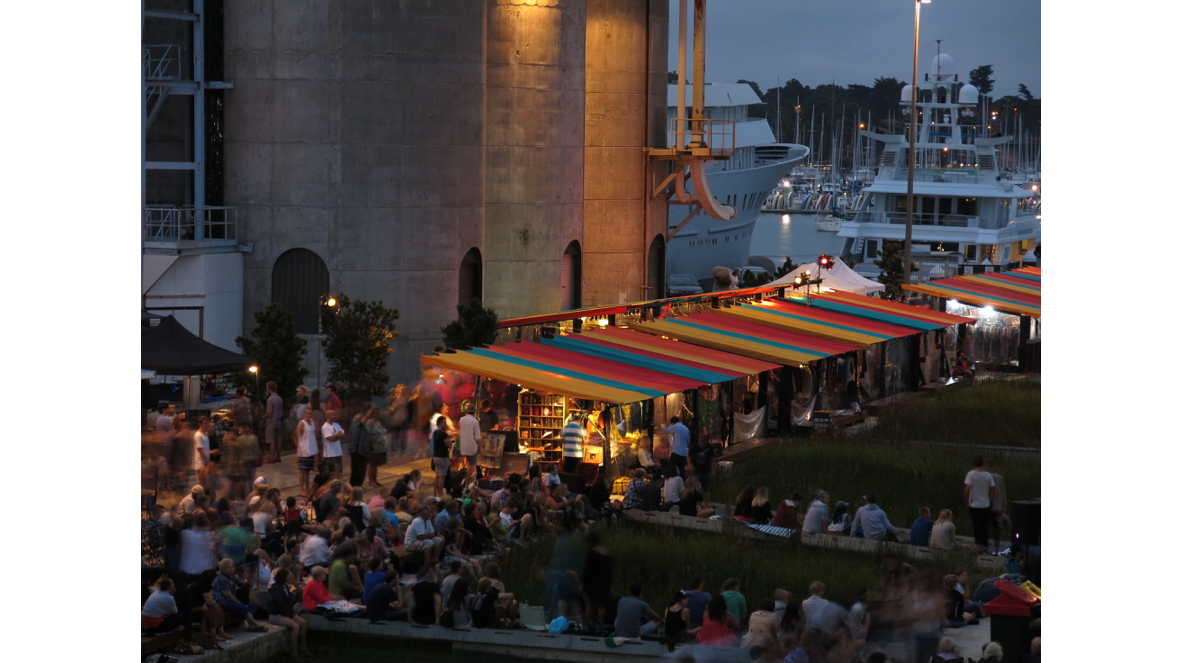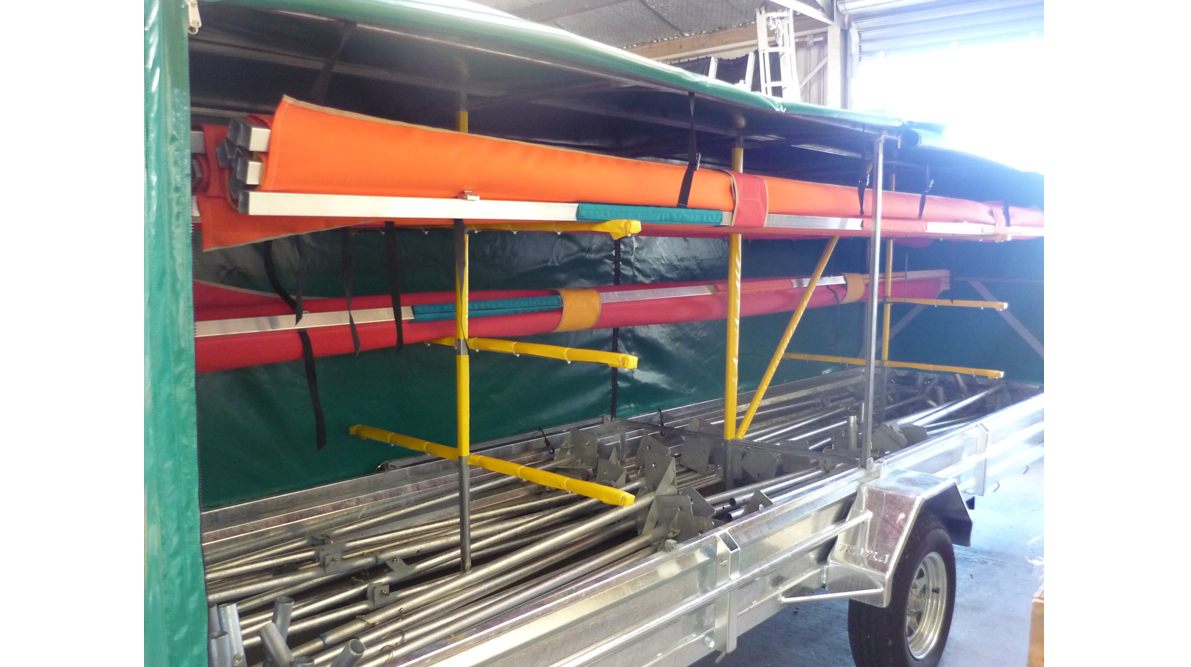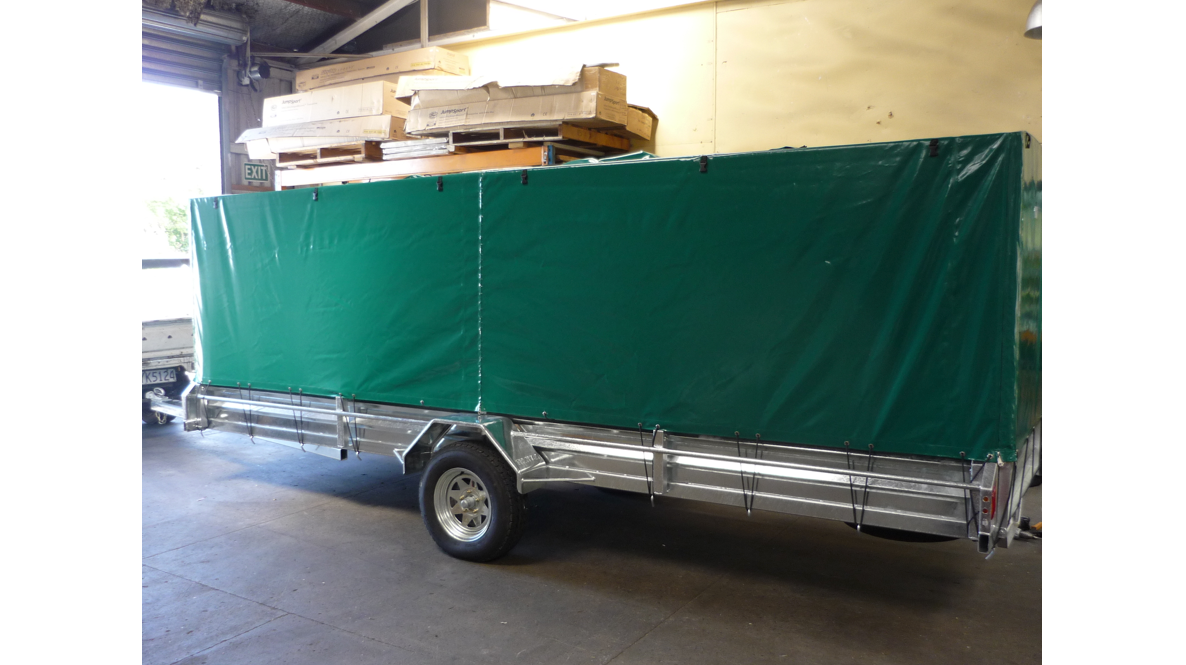 Auckland Waterfront Market Structures
The Silo Markets are open Friday nights throughout summer and every Saturday. Market goers can grab dinner, gifts, art and crafts from an eclectic array of stalls, browse a variety of pop-up clothing stores, get a bike service, a haircut or their tarot cards read, and toast the end of the week at the Silo Park Bar.
The twelve collapsible structures set the scene of the iconic market, alongside large bean bags lounging on a nearby grassed terrace. The kwila beams of each 6m x 3m structure add to the rustic but organised feel and sync beautifully with the carefully chosen canvas colours that create the mystic feel of the sea and relaxation. Removable clear PVC walls line the sides and allow flow from stall to stall, all while discreetly providing maximum protection.
A purpose designed and built trailer is waiting nearby to house the structures at the week's end.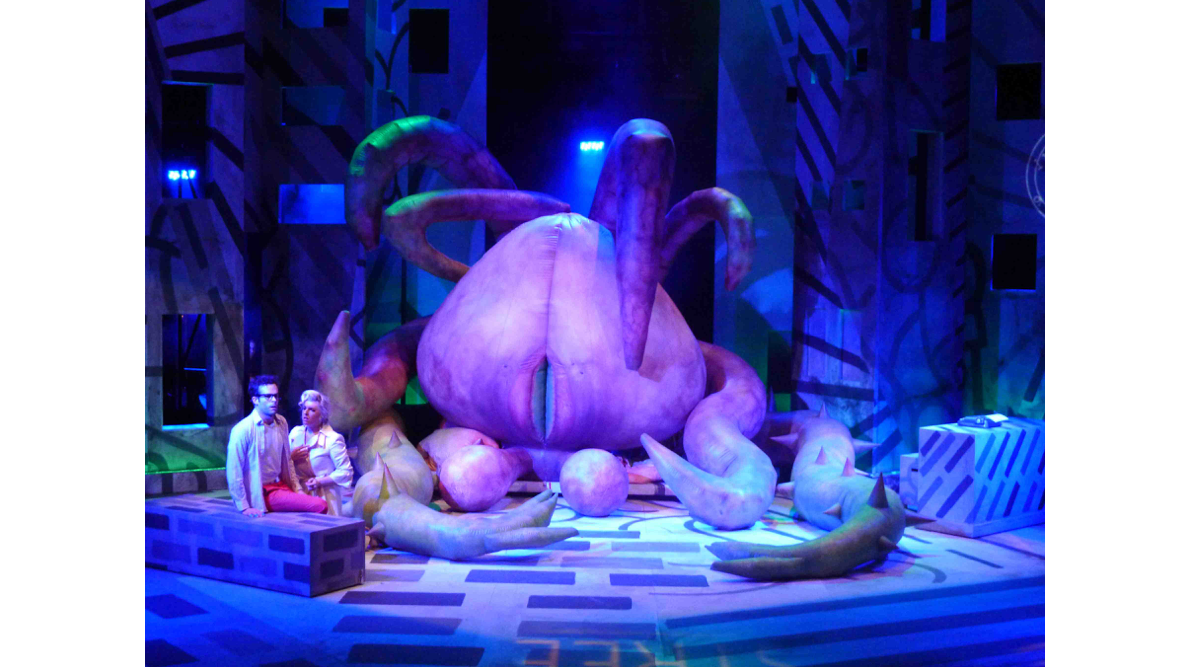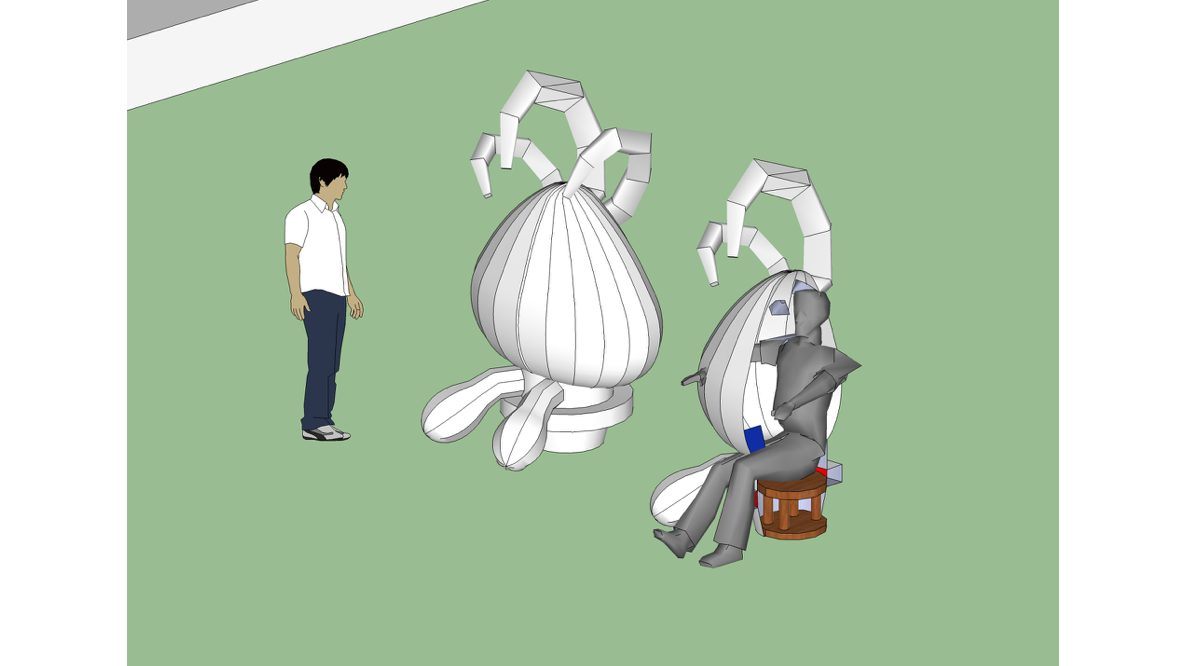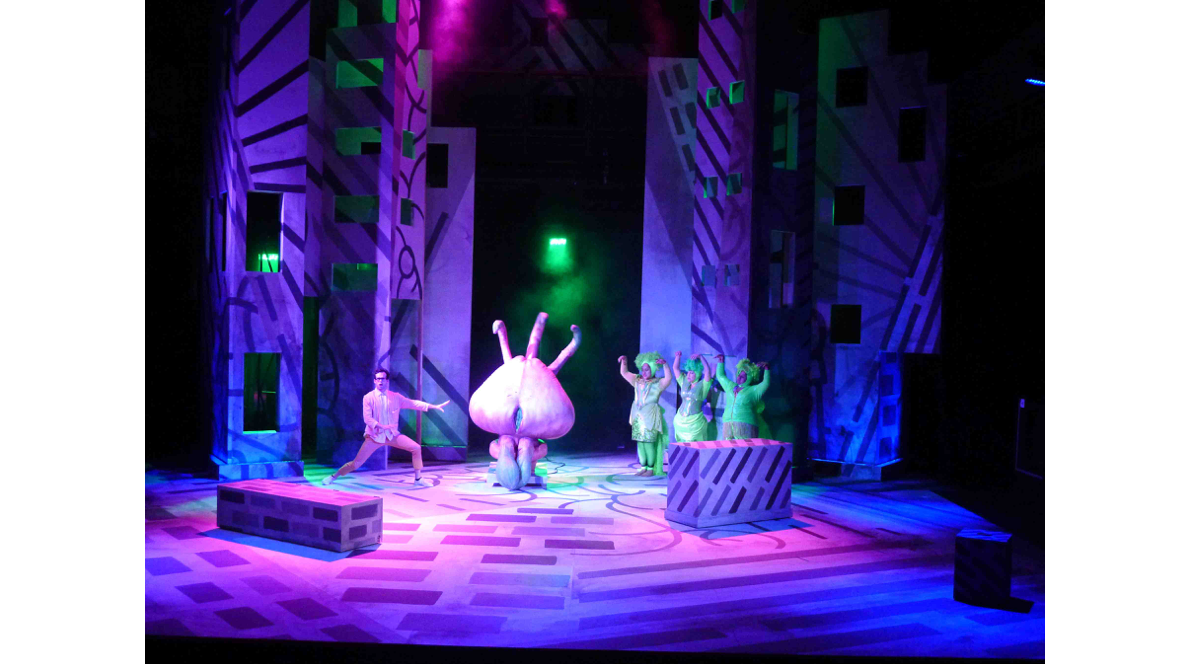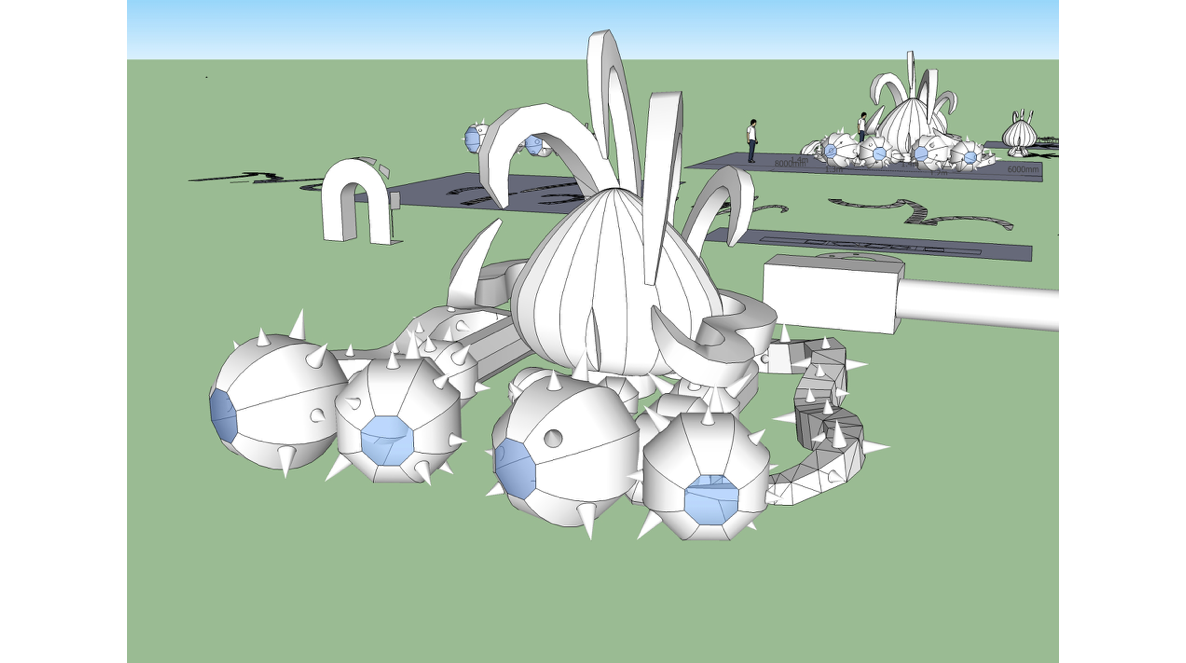 Audrey
Tracey Collins is a Visual Artist and Designer specialising in production and Costume Design for Film, TV and Theatre. Tracey is well respected; we were delighted to work alongside her in developing her design idea for a large rapacious man-eating plant for the Little Shop of Horrors musical.
Audrey went through many different forms throughout the show; it was an immensely challenging design. There were many requirements of Audrey; performers would be consumed by the plant throughout the show – literally. This required the inflatable to be durable, yet still light enough to be rapidly inflated. Arms would unfurl by activating internal fans, the consumed performers could crawl through to the outer ends where clear windows allowed the audience to see them, and the arms would then be withdrawn back in by the performers inside the unit.
Audrey was an incredibly rewarding project to be involved with and bring to life, it showcases the 'can do' attitude we strive for.
Coke Village
The Coca-Cola Company is the world's largest beverage company, a brand with a huge presence and marketing appeal to create spectacular events.
Three separate units form the Coke Village. The largest structure, 15m in diameter, houses an internal truss system to support lighting, video and sound systems, and has 1m diameter support legs inflated by 3 blowers, each leg is stabilised by a carefully thought out weighted ballast base. All three units have a separate custom branded skin, allowing for re-branding for future events. Enclosed tunnels created a covered walkway between the structures, and removable wall panels allow for a complete weather seal.
The Coke Village certainly didn't fail to create an impact during the numerous activations.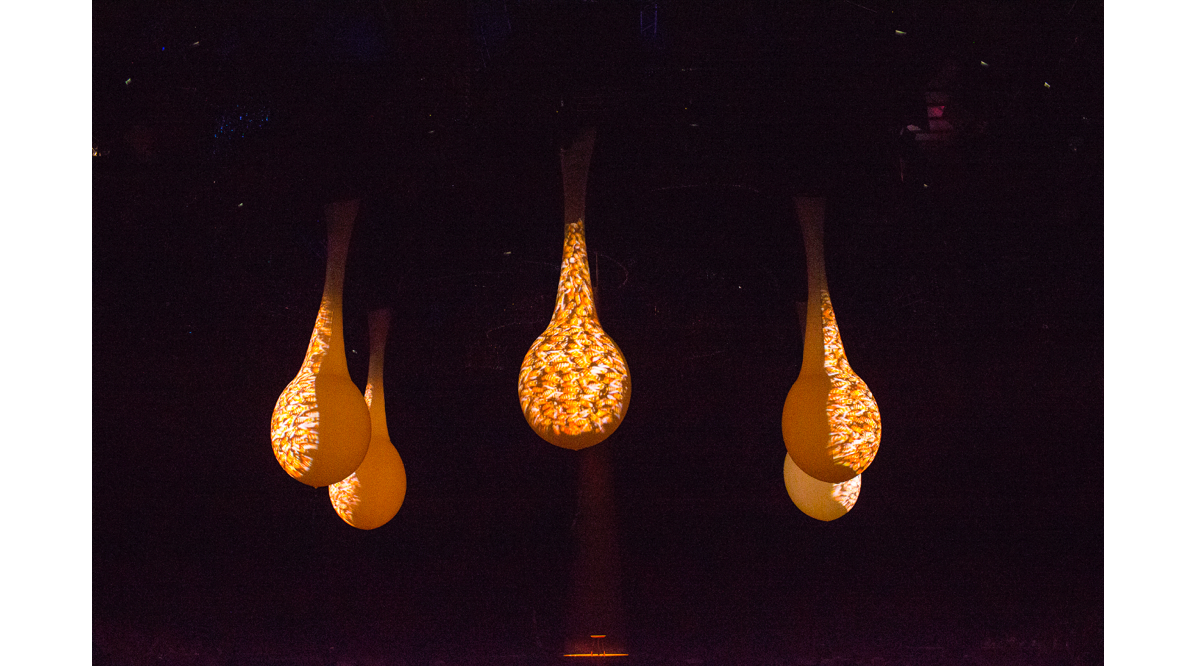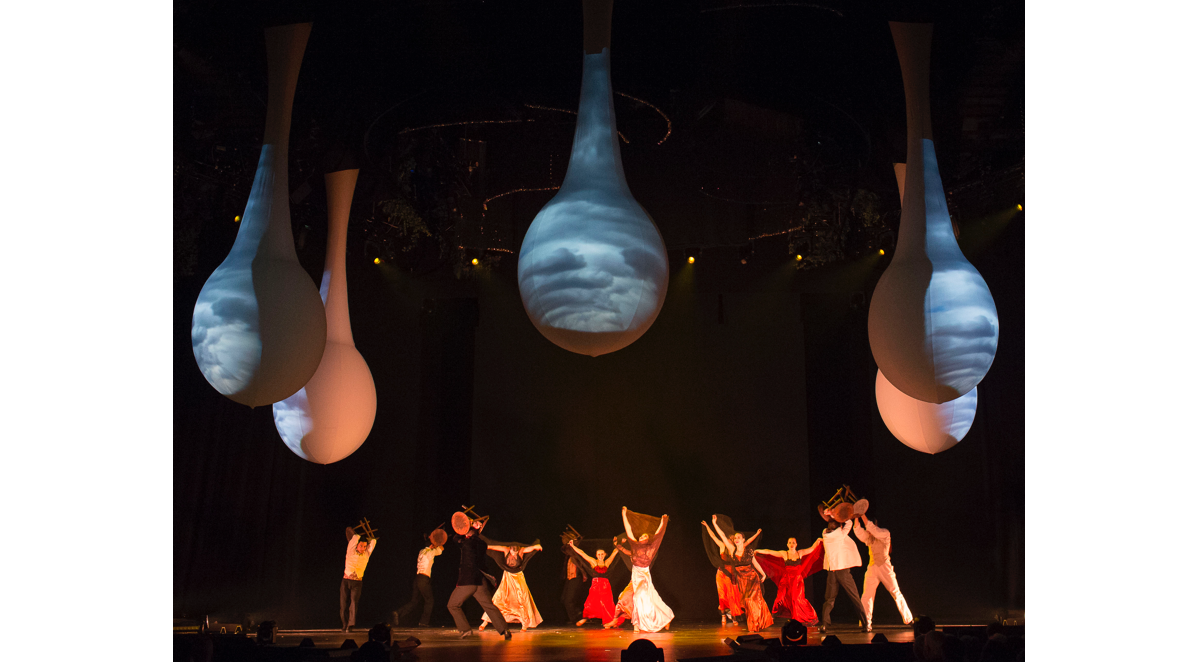 World Of Wearable Art (WOW)
The World of Wearable Art, commonly known as WOW, is a renowned international design competition that attracts hundreds of entries from all over the world.
We are privileged to have been commissioned year after year to conceptualise and bring to life design ideas put together by the creative artistic team at WOW. There are many requirements of a stage piece for WOW, the functionality and ease of positioning the props on stage between sets is a key requirement. The technical ability of the fabric itself, how it moves, and how it can be interacted with throughout the performance is pivotal.
Always testing our limits and technology, after a number of conceptual phases, our team put together a polished product which performs to their brief. We look forward to working alongside the team at WOW year after year.
Cricket World Cup 2015
A giant inflatable cricket ball was seen bouncing around New Zealand's top holiday spots to spread the news of the forthcoming 2015 ICC Cricket World Cup and give visitors a glimpse of what awaits them.
The 2.5m diameter cricket ball was one of three units travelling around New Zealand. The airtight inner bladder needed to be very robust to withstand the adventures ahead of it; zorbing, rafting and jet boating, a harness was also supplied to safely secure it while bungy jumping! The outer skin needed to be 'signature friendly' to hold the autographs it would receive on its journey.
Former Prime Minister John Key became the first person to show his passion for cricket and New Zealand by signing the giant ball at the Basin Reserve –Wellington's famous cricket ground.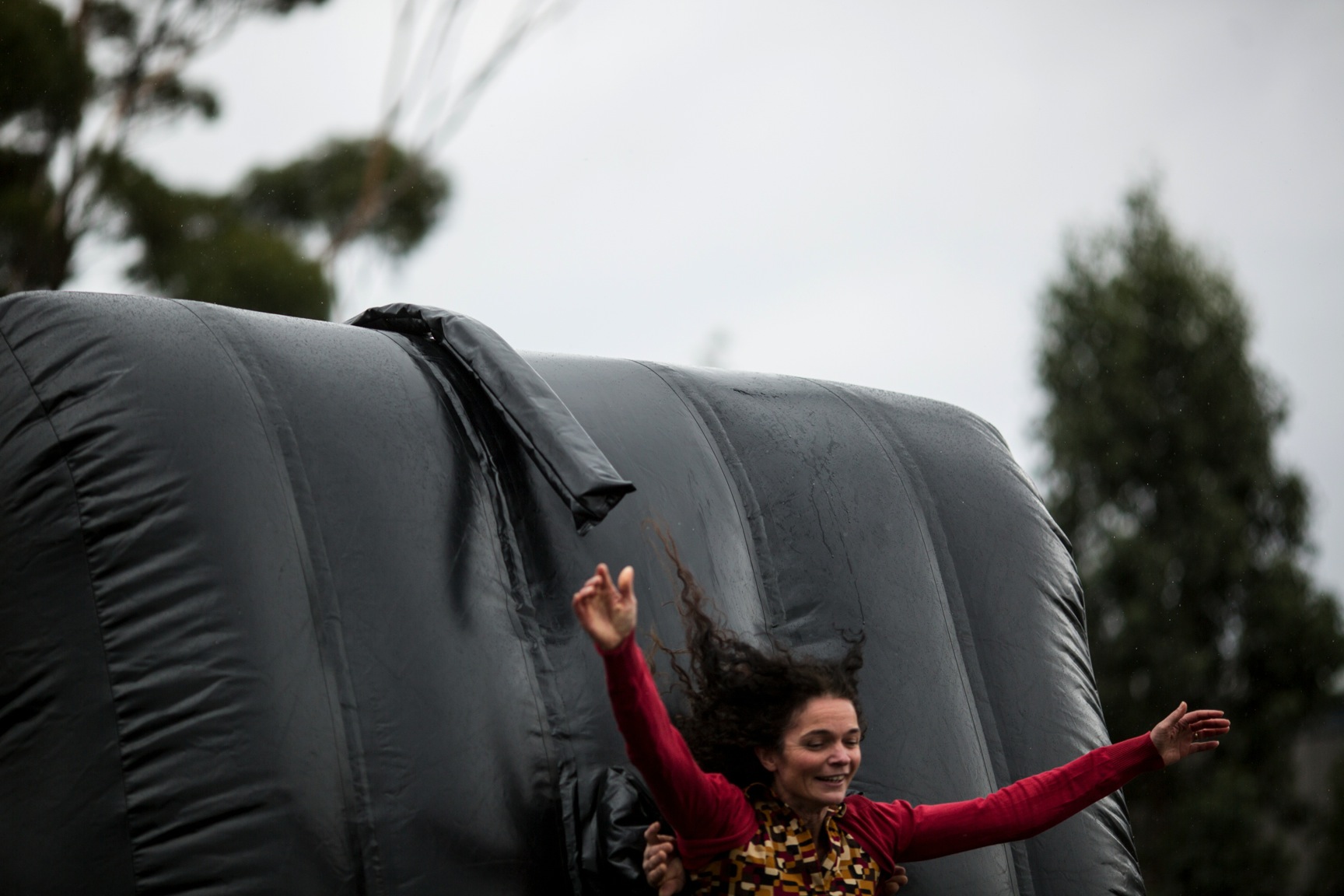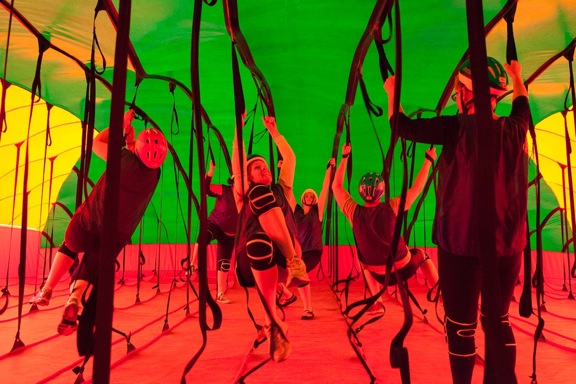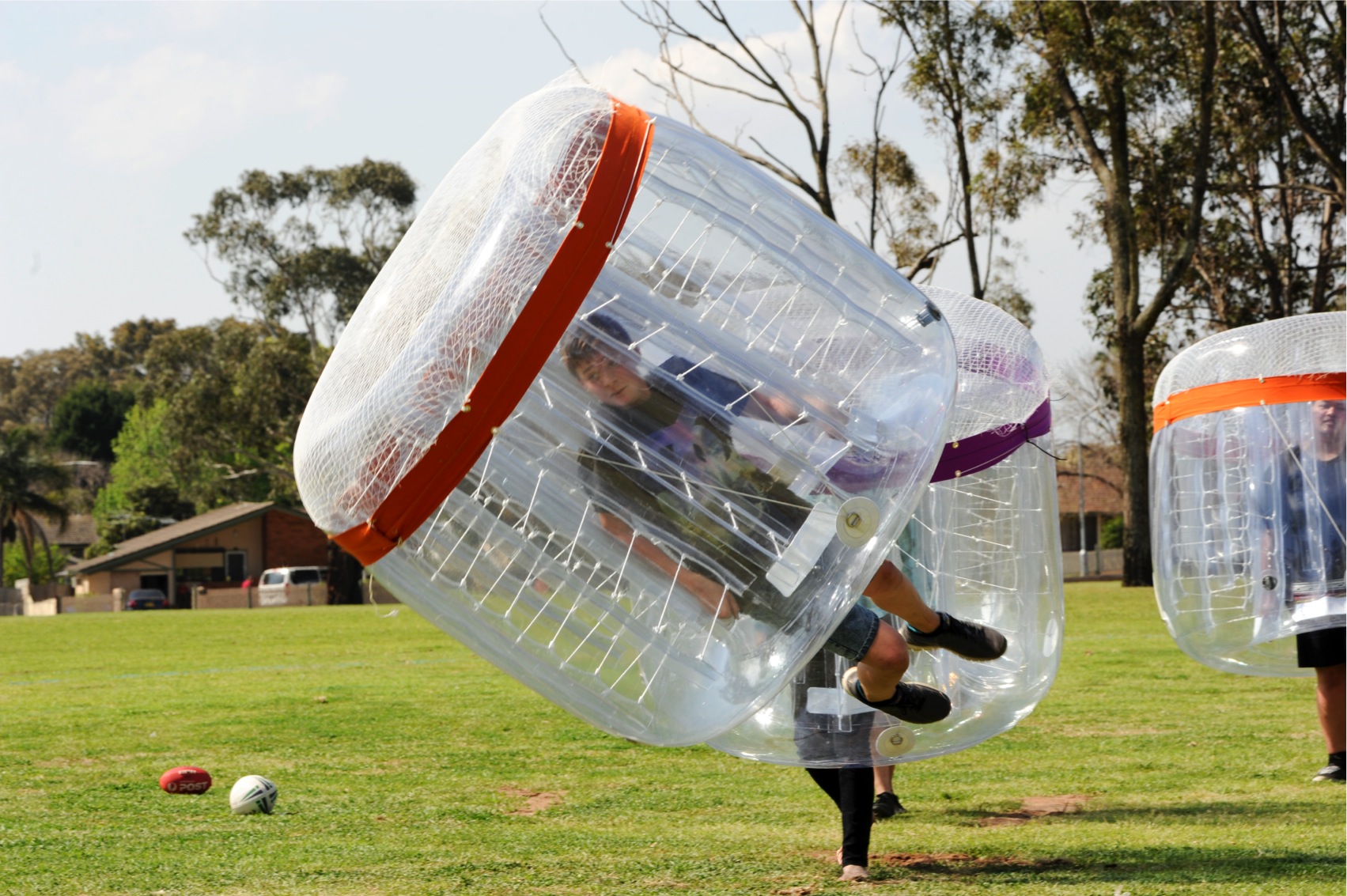 David Cross
Working across performance, installation, video and photography, David Cross has focused on the relationship between pleasure, the grotesque and the phobic. His small to large-scale performance/installation work has sought to incorporate and extend contemporary thinking in relation to participation, linking performance art with object-based environments. Often using his own body as a starting point, he employs a range of objects (many of which are inflatable), to draw audiences into potentially unexpected situations and dialogues.
"It is very unusual for a company that makes commercial products to be able to deal with an artist. As an artist I have dealt with many large-scale industrially fabricated works and you rarely get people who appreciate the artistic process, but Canvasland is a company which can respond in an extremely diverse variety of ways."
Canvasland came to Cross' attention when one of his school's graduates came to work for us. Since then we have created several installations for David Cross, a renowned artist and Head of Art and Performance at Deakin University in Melbourne, Australia.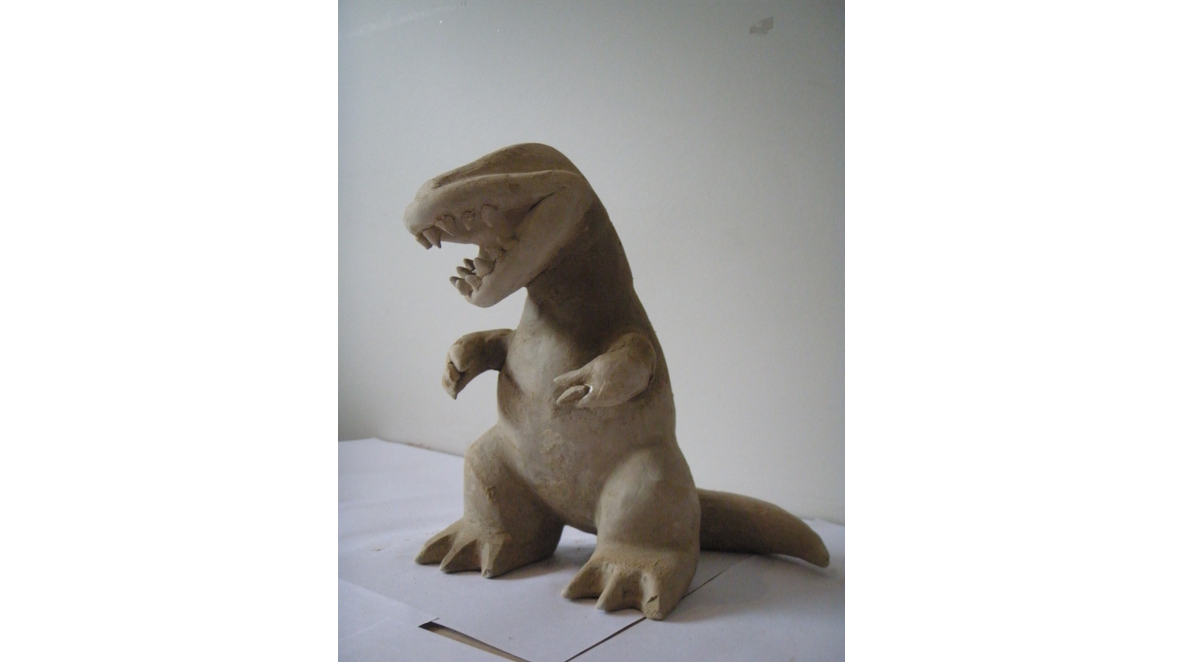 T-Rex
Waikato Museum needed to make a statement to promote their 'Hatching the Past: Dinosaur Eggs and Babies' exhibition. Hatching the Past took a rare and exciting look into the life of dinosaurs that once roamed our planet, a captivating and interactive experience for all ages.
T-Rex was developed as an eye catching statement to promote the exhibition at Waikato Museum. Our designer developed a clay scale model that was presented to our client showing the profile and angle of the head that the 5m high dinosaur would sit at. From sign off, we then developed patterns for the 147 panels needed to assemble the inflatable. An air brusher was engaged to hand paint the T-Rex to bring it to life.
The T-Rex created a great profile for the exhibition at Waikato Museum; and is now reunited with its extinct family members.